Whitey Mason Auctioneers; career beginnings and professional history
Summary
My auction career began in 1988 when a friend decided to downsize his ranch using the auction method of marketing. After hearing the rapid-fire chant of an Auctioneer calling bids all day while he sold real estate, equipment, horses, cattle, and personal property to over 300 registered bidders, I knew what I wanted to do for the rest of my life!
I have been blessed with the opportunity of working with some of the best auctioneers in the business, including world champions and many of the "greats" of our time. Since that day back on the farm, we have conducted or participated in thousands of auctions, gaining a high level of auction expertise, transaction experience, and service excellence.
I immediately began practicing on my chant. A few weeks later I began working for a leading auction firm by setting up sales, working in the ring as a bid assistant, and occasionally calling bids from the microphone. In the winter of 1989 I attended Missouri Auction School in Kansas City. I didn't know it at the time, but some of my instructors included some of the "greats" of our industry. In 2011 I won the Oklahoma State Auction Championship, and since have placed in the top 10 of the International Auction Championship and the World Auto Auction Championship.
In Recent News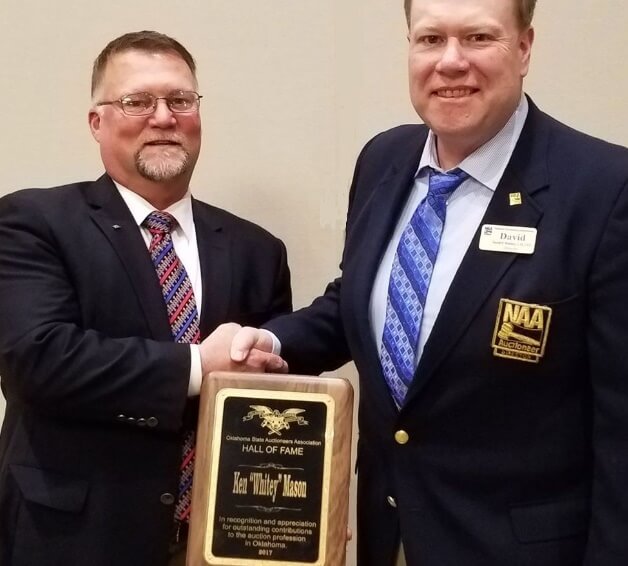 2017 Oklahoma State Auctioneers Association Hall Of Fame Award Winner
Whitey Mason Auctioneers: Memberships, Training & Professional Acknowledgements:
National Auctioneers Association
Oklahoma State Auctioneers Association
Certified Auctioneers Institute
Oklahoma Center for Non-Profits At CAI I was awarded the Pat Massart Leadership Award, voted from fellow classmates throughout a three year training program.
Professional Accomplishments:
CAI Designation
CAI Class Adviser
OK Brokers License
Multiple St. Auction Licenses
Oklahoma St. Champion Auctioneer
International Auctioneers Championship Finalist
World Auto Auction Championship Finalist
Judge for several state Auction Championships
President and Board of the OK ST Auctioneers Assoc.
Experience
Auctioneer at Ball Auction Service May 2015 – Present (1 year 10 months)
Auctioneer at Mason Auctioneers 1990 – Present (27 years) For the Wholesale Auto Auction, the experience I bring includes energy, expertise and momentum needed on every vehicle. I am an Auctioneer with almost 30 years of experience selling on a weekly basis for many major Auto Auctions, including Dealers Auto Auction of OKC, Manheim, ADESA, and several independent Auto Auctions in and around the region.
I am also a team member of Mast Auctioneers working the Barrett Jackson Collector Car Auction event in Scottsdale Arizona since 2004, as well as the Barrett-Jackson events in West Palm Beach, the Mohegan Sun, and in Las Vegas every quarter, as seen on Velocity TV and the History Channel.
I also conduct many Professional Benefit Fundraising Auction Events every year.
As a member of the National Auctioneers Association, I stay current with the relative trends in the auction industry by attending over 50 hours a year of continued education.
I am a past graduate and Class Adviser of the NAA's Certified Auctioneers Institute, a three year program considered to be the highest level of Auction Education offered, with only 2% of the nation's auctioneers ever achieving the designation. I bring creative solutions with fresh insight to every sale while always striving to exceed expectations for both buyers and sellers, along with the experience of literally thousands of auctions in the last 25 plus years. I constantly look for working answers and solutions that can make a real difference in the outcome of any auction sale.
Wholesale Automobile Auctioneer at Dealer Auto Auction March 1992 – Present (25 years) Fleet Lease, Dealer Consignment
Regional Director at Ameribid June 2009 – October 2013 (4 years 5 months) At this company, I learned a tremendous amount and gained my real estate experience from one of the best in the business. I learned that Auctions deliver real solutions to Sellers and Buyers by providing clear results, a transparent process of exchange, a time certain sales process, and the establishment of fair market value. In today's market, both Sellers and Buyers of real estate are seeking reliable services backed by quantifiable results when turning to real estate professionals to manage the market exchange of such assets. AmeriBid offered a very different approach to satisfying these needs….. an approach based on the very fundamentals of market trade.
Automobile Auctioneer at Manheim 1991 – November 2012 (21 years) Factory, Fleet Lease, Dealer
Consignment Auctioneer at National Commercial Auctioneers June 2009 – July 2012 (3 years 2 months) At Natcom we market and sell Commercial and Residential Real Estate on a Nationwide platform.
President at Oklahoma State Auctioneers Association February 2007 – February 2010 (3 years 1 month) 2 term president and 3 years on the board. Responsible for the growth and development of new membership, educational programs, management and business of the association. Doubled the membership over a two year period.
Automobile Auctioneer at ADESA April 2004 – October 2007 (3 years 7 months) Fleet Lease, Dealer consignment Languages Spanish (Limited working proficiency)
Honors and Awards
Pat Massart Leadership Award Pat Massart, Certified Auctioneers Institute/National Auctioneers Association March 2012 Whitey recently completed training at the Certified Auctioneers Institute (CAI) in Bloomington Indiana. The CAI program is the industry's premier training program developed by the National Auctioneers Association for auction professionals. Taking three years to complete, the CAI designation is the industry's most respected professional designation an auctioneer can achieve. At graduation, Whitey was awarded the prestigious Pat Massart Leadership Award, voted on by fellow classmates at CAI. The award honors the memory of Auctioneer Pat Massart and her steadfast commitment to the CAI program and the auction industry.
Education
NAA Certified Auctioneers Institute CAI Graduate, Auctioneering, 2010 – 2012 Grade: Class III Missouri Auction School Graduate
Auctioneering, 1989 – 1990 Interests Wholesale Auto Auctions, Benefits and Fundraising, Commercial Real Estate. Residential Real Estate, Real Estate Portfolios Organizations national auctioneers association Class Adviser, CAI Certifications Certified Auctioneers Institute National Auctioneers Association
Recommendations
"Whitey Mason is one of those rare finds mixing aggressive business skills with integrity and honesty. Having known Whitey and worked with him on various occasions, I find it easy to give him the highest recommendation possible. Whatever your needs are, you will be glad that you spoke to Whitey about it. If he can't be the best there is to do it, then he will tell you up front. However, you can rest assured that he will work and produce above and beyond anything he promises you."
— Dan Boone, was with another company when working with Whitey Mason Auctioneers
"Whitey is a consummate professional in all aspects! Wonderful Auctioneer, and businessman. He strives to constantly educate himself in this fast paced world. I would highly recommend Whitey!"
— Shannon Schur, was with another company when working with Whitey Mason Auctioneers
"I worked with Whitey back in 2007 and he was an absolute joy to work with. His calm demeanor and upbeat attitude always made the day more pleasurable and you never had to worry about whether you could count on him to do his job. He never fails to give 150% with any endeavor he goes for and I would recommend him to anyone."
— Jenny Lewis, was with another company when working with Whitey Mason Auctioneers
"Whitey is a phenomenal person to work with – I cannot say enough good things about him! He is very professional, always courteous, and he does his absolute best to make sure his customers are happy. I would absolutely recommend him… 100%!"
— Jenny Lewis, worked with Whitey Mason Auctioneers
"Whitey is trusted marketer and auctioneer. The quality of his bid call is only second to his depth of character. I would trust him selling any asset I would need to liquidate."
— T. Kyle Swicegood, was with another company when working with Whitey at National Commercial Auctioneers
"The first thing that comes to mind about Whitey is that he is has an old soul (honors life values, relationships and history at a deep level) and he is a great real estate professional/auctioneer. Men like Whitey are hard to find. He is extremely professional in high stress environments and I would recommend Whitey to any company or person who might have the privilege , as I did, to work with him."
— Steve Sorrell, worked directly with Whitey at National Commercial Auctioneers
"Whether calling an auction of managing a deal, Whitey always delivers!He is an exceptional person, father, businessman, and auctioneer. Whitey is extremely passionate about every deal he works, and demands excellence from himself and from those around him. He is tremendously detailed, and informative. When I need an auction to be a home-run, or exceed every expectation, Whitey will be my auctioneer!"
— Cort Lenz, worked directly with Whitey at National Commercial Auctioneers
"I have served with Whitey in the corporate setting and have always enjoyed working with him. I highly recommend his services."
— Steve Mann, was with another company when working with Whitey at National Commercial Auctioneers
"Whitey Mason is simply one of the best auctioneers I have ever had the pleasure of working with. He is dedicated to his profession, committing himself to always learning more today than he was aware of yesterday and constantly seeking personal improvement in his life as a whole. He works extremely well with all parties to a transaction. People really like and trust him for obvious reasons. I highly recommend Whitey as "the best of the best" in the auctioneering profession."
— Timothy Moriarty, worked directly with Whitey at National Commercial Auctioneers
"Whitey is a gifted auctioneer who really knows how to get the job done. One of the best I have worked with, and that is a big number!"
— Alan Jones, worked directly with Whitey at National Commercial Auctioneers
"To Whom it May Concern, I have known Whitey Mason for 15 years and have always found him to be a professional in the industry which we serve. Whitey is highly experienced and trained auctioneer that always puts the clients needs front and center. Over the years i have continued to engage Whitey when i have a need for professional advice or experience in the auction fields which he serves and have always found his advice to be right on the money. I would recommend Whitey Mason for any projects i have coming up in his area. Respectfully, R. Shawn Terrel Vice President United Country Real Estate United Country Auction Services"
— Shawn Terrel, was with another company when working with Ken "Whitey" at National Commercial Auctioneers
"Whitey has provided me with outstanding Auctioneer skills for close to 20 years. He brings a high level of integrity to this profession, and can be relied on to maximize the value of any product he is selling. He can handle any sale from cradle to grave. If you are looking for a Superstar Auctioneer, then Whitey is your man."
— WAYNE CAREY, was Whitey"s client